Celtic_2016
Stockholm, Sweden, 28-29 April 2016 Celtic-Plus Event

The Celtic-Plus Event 2016 was held on 28-29 April 2016 in Stockholm, Sweden. The event was co-located with the EUREKA Innovation Week 2016, organised and hosted by the Swedish EUREKA Chairmanship at the Stockholm City Conference Centre.
Convince participated and showcased five demonstrations:
Remote gaming: Energy savings using computational offloading
A working prototype for remote gaming based on GamingAnywhere is shown. The goal is to present a platform for measuring power savings in terminals and compare the consumption to State Of The Art consumption of gaming applications.
Video streaming: Energy consumption measurements for various types of video encryption
A video is streamed from a server to an Android application. The application displays instantaneous energy consumption figures. The user can choose different security and digital rights settings and see how this affects performance, energy consumption and expected battery lifetime.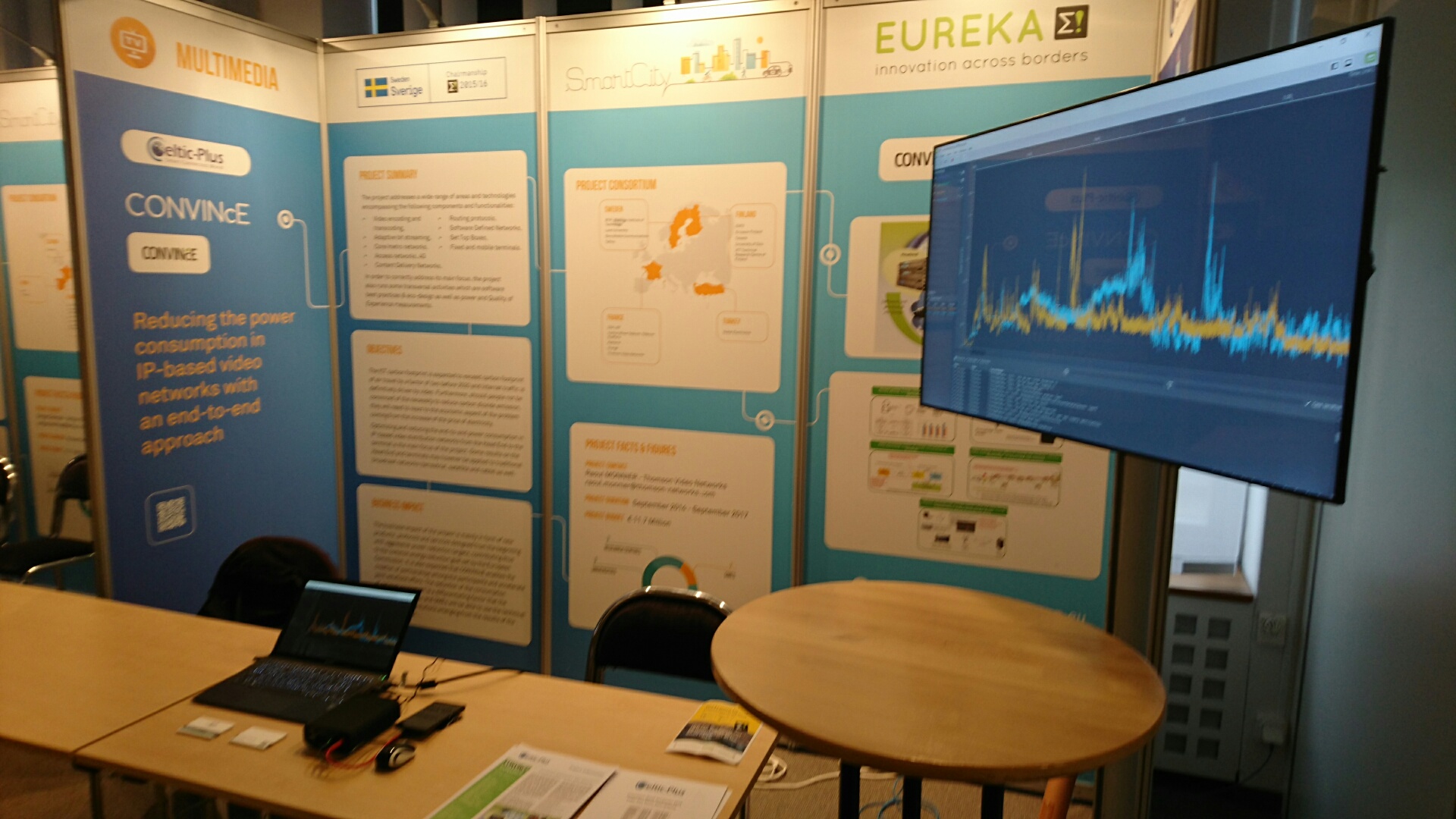 Energy savings using real time energy  measurements during software development/debugging
This demonstration shows an energy consumption analysis tool for energy optimization of devices and applications. It enables product developers to quickly understand the energy consumption of the products that they are working on, with the goal of making more sustainable and more energy efficient devices.
Video processing: Impact on energy consumption in terminals
This demonstration aims at explaining that moving to a better video compression technology takes only a little extra power and that using parallelism for decoding can help to save energy.
Energy-efficient routing and interface selection mechanism in access and core network
The aim of the demonstration presented in the video is to show how an energy-aware routing approach can reduce the overall energy consumption in access and core networks.